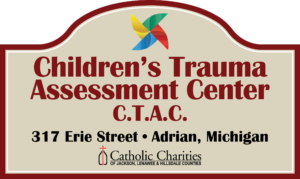 Children's Trauma Assessment Center
In Lenawee County, our Children's Trauma Assessment Center (CTAC) was developed when the need was identified in our community by various programs of Catholic Charities. The CTAC is here to provide a wide array of assessments for children who have experienced trauma and adverse childhood experiences. We opened our doors in January of 2022 and operate 100% on grants that we have received from various foundations, companies and individual donors from Lenawee County and the surrounding area who "just want to help". Without this support, we would not be able to help our community become a healthier place to live and enjoy life.
The CTAC's professional team encompasses mental health clinicians, social workers, speech and language pathologists, and a pediatric physician. This team was specially trained by Dr. Jim Henry, PhD, MSW, co-founder of The Southwest Michigan Children's Trauma Assessment Center in Kalamazoo, MI.
Our CTAC is here to promote and guide understanding for families and children who have experienced trauma. We are here to help children recognize what may be going on in their brain and bodies right now and help them to formulate a positive self-concept for a brighter future. The CTAC provides a comprehensive multi-disciplinary team approach. We work with children whose exposure may include sexual abuse, physical abuse, witness to domestic abuse, prenatal exposure to drugs and/or alcohol, and community violence.
The CTAC provides a comprehensive neuro-developmental evaluation for the children we serve. The day-long assessments provided at the CTAC include:
Trauma Indicator Assessments
Speech, Language and Hearing
Resiliency
Sexual Abuse checklists
Parent Alienation
Fine/Gross Motor
Academic Testing
Intelligence Assessments
Sensory Input Assessments
Fetal Alcohol Screening
Parent Bonding
Visual Perception
Motor Coordination Screening
Executive Functioning
The assessment is specifically designed to give the team involved in the child's care a better, more complete picture of what is going on with the child and how they can best be helped. It is a very thorough, multi-faceted assessment done by specially trained staff, coordinated through a team approach with the child's best interest and healing at heart.