Child Advocacy Centers for Abused Children
Catholic Charities of Jackson, Lenawee and Hillsdale Counties operates Child Advocacy Centers (known as CACs) in both Jackson and Lenawee Counties, serving child from across our three counties. CACs impact the community in a positive manner by helping investigators across all disciplines provide a more comprehensive and coordinated response to the problem of child abuse. Children who may be victims of sexual abuse or severe physical abuse are referred to the CAC where they are interviewed by a highly-trained forensic interviewer.
They are offered therapy and resource information, and all services at the CACs are provided at no cost. The CACs provide a comfortable, child-friendly atmosphere where children can receive the critical support they need while the investigative process happens behind the scenes. Because the legal system was created with adults in mind and does not always cater to the needs of children, a CAC can be an important tool to help children and their families who are facing these difficult situations.
When abuse is reported, an appointment is scheduled at the CAC for the child to receive a forensic interview. While the interview is conducted, other professionals involved in the investigation are present in another room to observe. The child's statement is obtained in a developmentally sensitive, unbiased, and truth-seeking manner which facilitates accurate and fair decision making in the criminal justice and child welfare systems. By completing forensic interviews in this way, the CAC helps to avoid re-victimizing children with repeated, unnecessary interviews in a variety of overwhelming and often scary settings.
The CACs serve as a central meeting place where members of the Multi-Disciplinary Team (MDT) work together in a coordinated effort on the investigation. While our CAC staff interviews the child, the entire MDT works behind the scenes. Our staff meets with the child's non-offending caregivers, offering support and providing resources and information they may need to better care for the child and family. Once the interview is completed, our CAC staff offers trauma-focused therapy to the child to help the healing process begin. This therapy is offered at no cost. After being seen at one of our facilities, CAC staff follows up with every family intermittently to ensure they have the support they need.
Both the Jackson County CAC and the Lenawee County CAC are accredited by the National Children's Alliance. This achievement demonstrates our dedication to adhering to the highest standards of practice.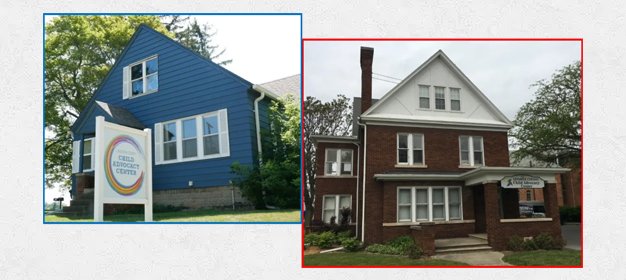 Catholic Charities of Jackson, Lenawee and Hillsdale Counties